We've teased it for months, and in the past 4 weeks we've revealed our flagship competitive gear. Now, it's finally here. From the team over at BLVKHVND, we are proud to present to you our 2022 Pro Kits. Get yours now: (pro kit shop)[blvkhvnd.app]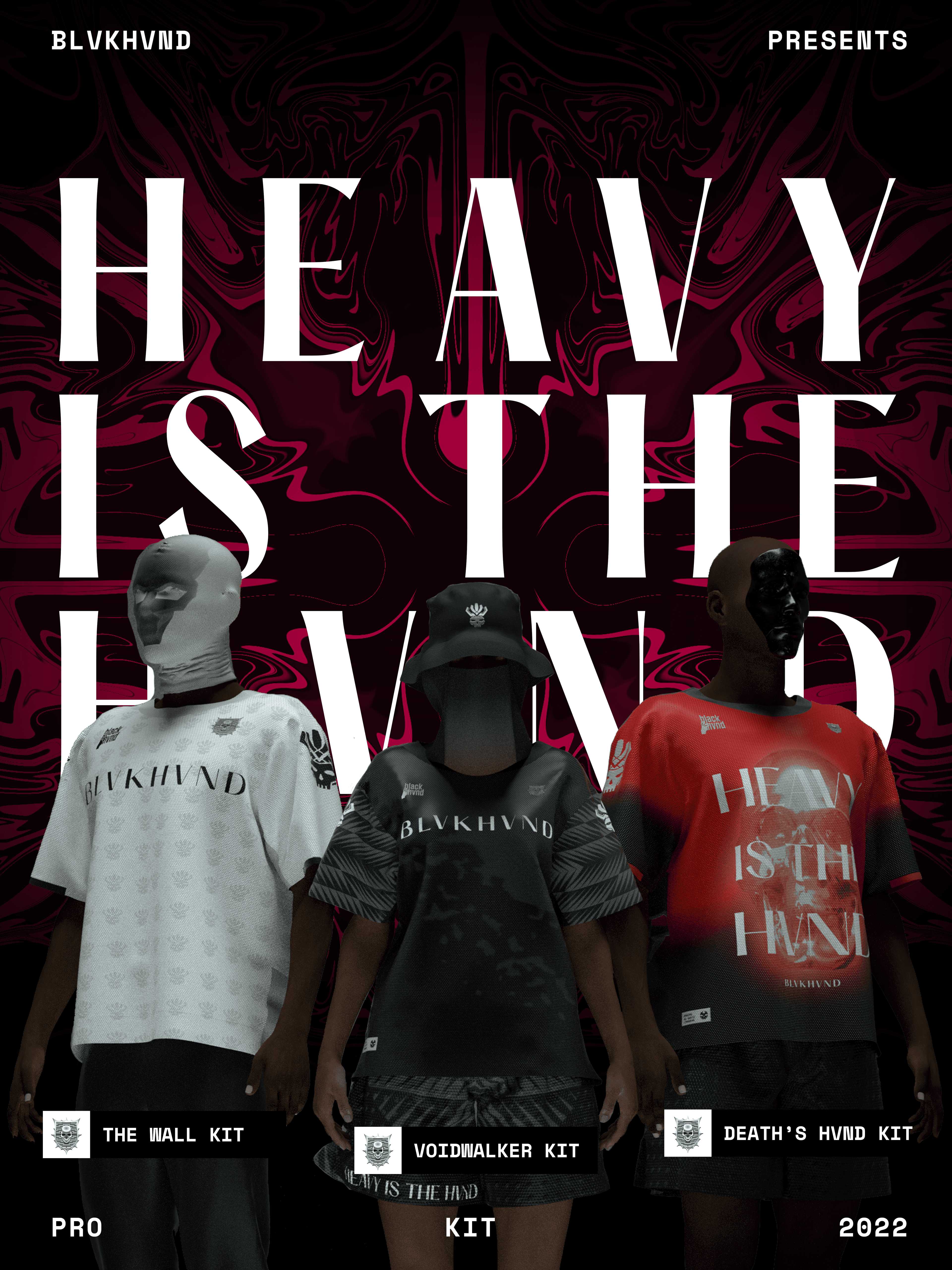 More than a jersey
At BLVKHVND, our mission is to be at the epicenter of gaming, esport, and culture. But to get there, we need more than a name, we need more than wins, we need image. What's in a brand that you can wear?
The only other company that embodies the spirit of a true brand that works within and outside of gaming is 100Thieves—an apparel brand that also manages one of the most visible esports teams in the business. From their basics, jerseys, and the collaborations with Gucci, Attack on Titan, and the digital skins for Valorant and Rogue Company—they have uniquely positioned themselves as an extension into culture.
We want to go further.
The HVND identity is not just gleamed through the digital channels, but within the physical environments in which we play. How do we leverage our brand to represent the vast variation of sport under a unified banner?
We return to fashion as a root, a foundational bedrock of our organization to effectively catalyze our community. With more emphasis on the duality of indoor and outdoor sport, from leisure to activewear—these pendulums point to the ways in which the HVND expresses themselves. In the coming weeks, we will reveal more about our process for developing apparel and our roadmap for this year and beyond.
Introducing the 2022 Pro Kit
For us, we knew that having just 1 jersey wouldn't showcase the diversity of our players, the games we play, and what our brand is. So we decided to pull inspiration from some of the best Kits in the business: FIFA. Futbol or Soccer has some of the most iconic looks on the pitch no matter if they play at home, away, or want to spice it up with an alternative look that turns heads. In competitive LAN events, many of them span a full weekend, and since we typically make appearances all three days, we wanted to give our players that same sense of style whether its a controller in hand or a mouse + keyboard.
Voidwalker
"Voidwalker" is our Home Kit jersey. Stepping into the unknown, it's hard to know what's on the other side. But meeting a challenge head on, you become unstoppable. Our players believe in us, and we journey through the unknown, together.
The Voidwalker Kit takes inspiration from SHIELD-4559, designed by Sirsu through AREA Technology's Emblemweaver.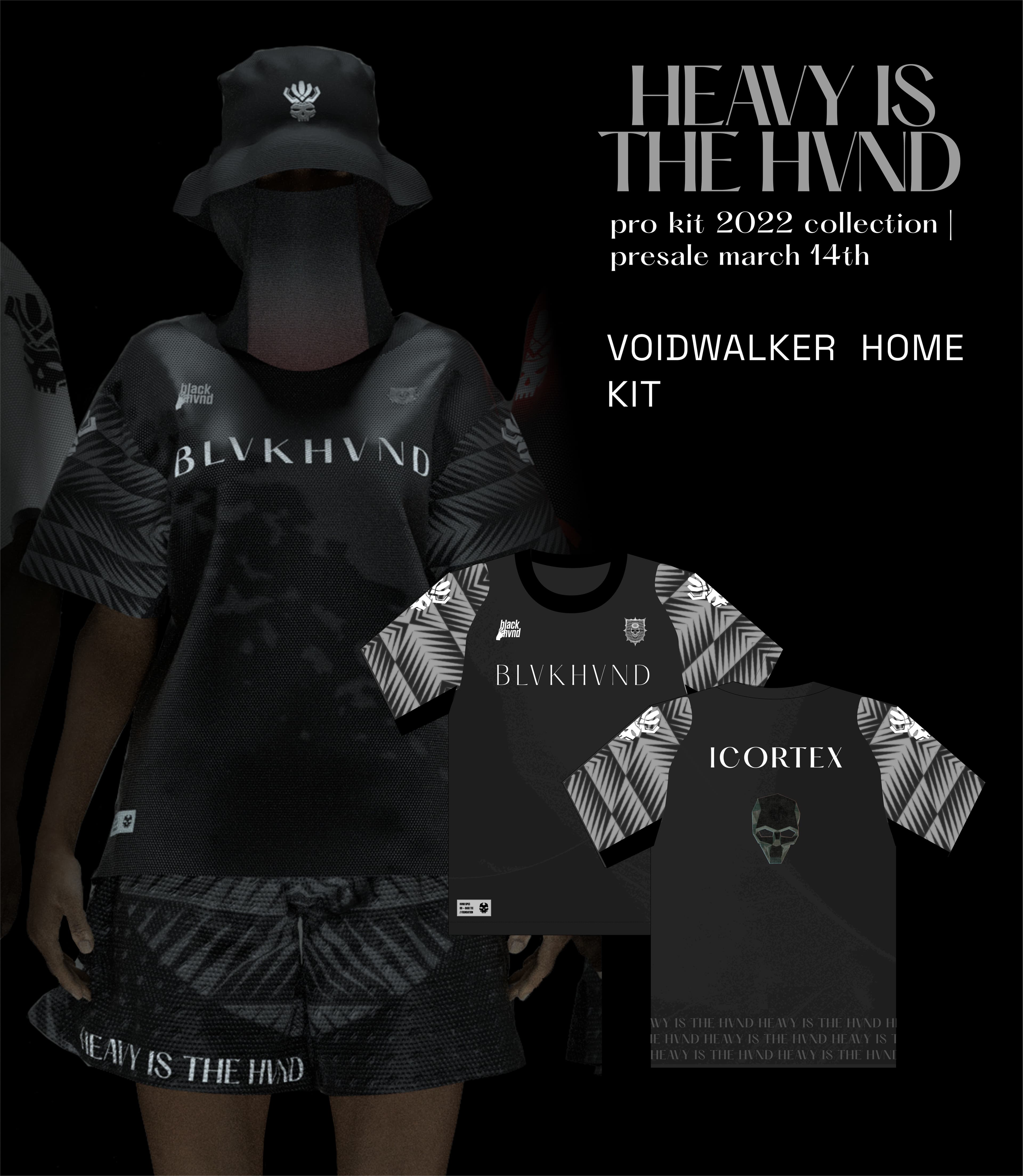 The Wall
"The Wall" is the Away jersey for our pro teams. Signifying our growing community—the support we had when we started to the HVND Army we've cultivated since November has been incredible to watch. This design is dedicated to you all.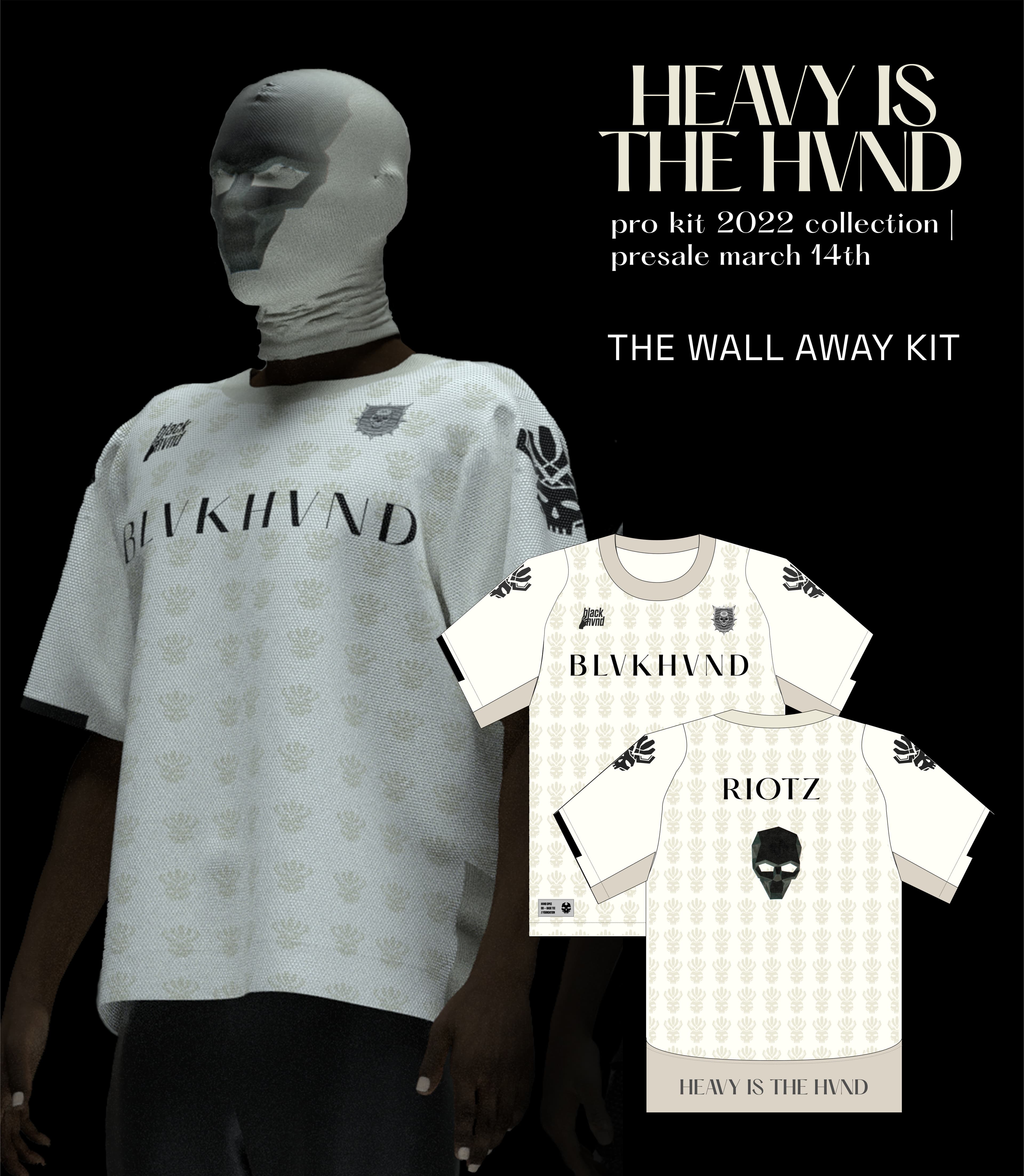 Death's HVND
"Death's HVND" is our Alternate Kit jersey design. When wearing this, you become a harbinger of chaos. When it's time to lock in and clutch up, the only thing you want your opponents seeing is the color red. Are you ready?
How To Purchase
The NFT presale starts tonight at 11pm Eastern from March 14th to April 10th. There is a limit of 500 per each jersey that can be ordered through the initial presale. Check back with this link at 11pm to cop one or as many as you'd like. Each jersey NFT will be sold at .15 ETH. After the presale, we will announce a general drop for those who missed out and a giveaway for the full set.
75% of the sales go to the treasury, 20% is given toward the apparel team, 5% is given to all of our signed players.
All Jersey orders will be fulfilled and delivered in July 2022.
Perks
Owning these jerseys gets you the following:
Full membership of BLVKHVND DAO. You are now part of our community. You have access to join our discord and participate in governance to push BLVKHVND forward collectively.
Your Jersey(s) can be customized with a character count of 15. Use your name, your gamertag, your twitter @—whatever best expresses you.
If you purchase a jersey and attended the Twitter Spaces, you will receive a special POAP token commemorating this moment.
Jersey owners will be part of a special committee to pitch ideas and contribute to our first alternate kit in collaboration with artists in our community + NFT space.
Jersey NFT owners also get presale access and some redeemable gear from all BLVKHVND Apparel + Merch for an entire year.
Jersey NFT owners get free access to BLVKHVND IRL events
Why NFTs?
We recognize the importance of building a community that participates on record. Having NFTs allows us to deliver a collective of digital and physical experiences that are unlike any other in the esports industry. It also acts as a means for those who are invested in our mission to support in a way that directly gives us the means to provide unique experiences and also create an upside for everyone involved.
Our NFT artist, design lead, visual lead and the rest of the apparel team can be properly compensated for their hardwork and contributions to the HVND canon through NFT sales. As such, NFTs create pathways for everyone to succeed, not just those who are at the top.
So what are you waiting for? Let's get minting.
#heavyistheHVND