These funds will go toward the core team of project managers, web developers, streamers, players, artists and strategists working directly on the project. Other costs include player stipend, game resources, and technical support. We intend to save a portion of these funds to act as the seed money in standing up the HVND(dao) once this initial phase of the project is complete (more on that below).
Part of the allocation will be used to budget toward development resources. These include streaming equipment, new streaming overlay systems, website for BLVKHVND, branding refresh, and discord + social media.
Part of the allocation will be used toward the acquisition of gaming resources. These include card packs for Parallel, Axies + AXS for Axie Infinity, and team jerseys for comp play (more on this below).
The last part of the allocation will be used toward player and team building. To compete, we need a competent team of players we can train and play with. The best team comps require cohesiveness, game sense, cooperation, discipline, and excitement. Not only do we need to recruit players, we also need analysts and coaching staff (more on this below).
5% will go directly to the artists who created the BLVKHVND visuals.
The remaining 5% will go directly to our early set of BLVKHVND supporters who raided our channels when we first started. Who gave us advice on how to stream and build consistency. Those of whom shouted us out on social media to give us more looks with our content — giving back is the key and we would not be in the position to build the future of eSports without them. In a special split (to be set up after the crowdfund is completed), we will personally onboard our supporters with a crypto wallet to receive $HVND and ETH.
Stretch Goals
ETH we raise on top of the 100 ETH goal will be put toward bolstering our treasury to budget for larger opportunities for the BLVKHVND community and the greater eSports industry. The more that is contributed now, the more resources we have to build a more equitable gaming culture. The proposed goals are as ambitious as our initial crowdfund; our intent is to build out this framework over the next 6-9 months.
@125 ETH → Enables greater quality of stream setups for our players, content creators, and main org accounts. Presentation through strong brand and production increases engagement and visibility. We want to be the shining example of decentralized gaming, we cannot slack in our appearance.
@175 ETH → More funds toward player recruitment and development and expansion of BLVKHVND staff. We hope to activate many potential players to represent our community. Part of our mission seeks to allow teams to form organically based on collective talents.
@250 ETH+ → Gives us significant funds in the $HVND treasury enables aggressive pursuance of NFT acquisition required to play certain games such as Axie Infinity and Parallel TCG. Our current focus for this crowdfund is to complete the Parallel Special Edition Card Sets: PD52 + PS15, and the Logo Card Backs.
Stretch Goal Alpha: Parallel Asset Acquisition
From the time of our initial announcement post in July, Parallel were days before the release of their first Pack Drop of 52 Playable Cards, Card Collectibles, and Assets like Prime Keys and Masterpieces. Within that 2 week period, they experienced exponential growth in card value and community. Parallel is spreading like a wildfire that even VCs have jumped into the fray to collect what seems to be the most anticipated Trading Card Game ever.
So where does that leave us?
Well, we had initially wanted to allocate 30 ETH to capture all playable cards and assets prior to the pack drop and now to complete just playable cards, we need a lot more ETH. Thankfully, we've acquired a great deal of the playable cards, but the high ticket items still require a call for help!
Here's what we have:
We have all PD52 non-SE (donated from the core BLVKHVND team)
We have 41/52 PD52 [SE] (donated from the core BLVKHVND team + iamcrowne)
We have 4/13 PS15 [SE] (donated from the core BLVKHVND team)
We have 10/13 PS15 non-SE (donated from the core BLVKHVND team)
We have 1 Prime Key (donated from the core BLVKHVND team)
Here is what we need: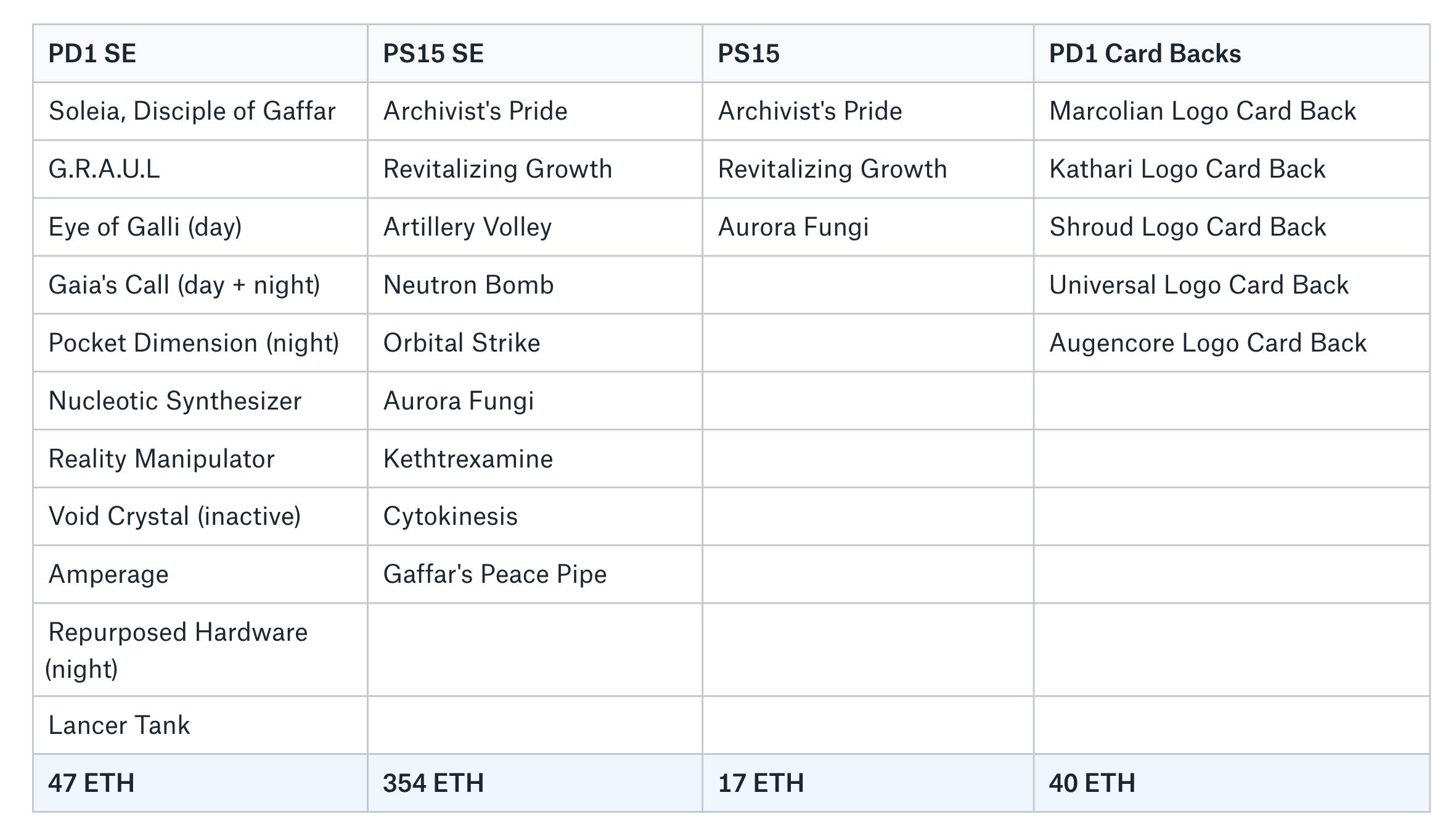 PD1 SE
Soleia, Disciple of Gaffar
GRAUL
Eye of Galli (day)
Gaia's Call (day + night)
Pocket Dimension (night)
Nucleotic Synthesizer
Reality Manipulator
Void Crystal (inactive)
Amperage
Repurposed Hardware (day)
Lancer Tank
PS15 SE
Archivist's Pride
Revitalizing Growth
Artillery Volley
Neutron Bomb
Orbital Strike
Aurora Fungi
Kethtrexamine
Cytokinesis
Gaffar's Peace Pipe
PS15
Archivist's Pride
Revitalizing Growth
Aurora Fungi
PD1 Card Backs
Marcolian Logo Card Back
Kathari Logo Card Back
Shroud Logo Card Back
Universal Logo Card Back
Augencore Logo Card Back
To complete all three parasets, we need 458 ETH. Our goal is to realistically raise 150 ETH to acquire PD1 SE, PS15 + Logo Backs.
If we fall into the graces of generous holders to gift us or loan us cards, then the remainder of the ETH will be put toward the HVND treasury giving us room to build our staff and build content for the Parallel community.
With your help, we can strategically acquire all playable cards, and overtime collect all assets, and masterpieces so our team can have the best arsenal for competitive play AND build passive income for the entire community. From our team's initial investment and participation in the pack drop, we've spent 10 ETH for a current card deck hovering around 745 ETH in current value. From where we stand, Parallel is our first indicator of gaming assets as a source of realized value for our community treasury and it will only increase as the game releases more content.
We are VERY bullish on Parallel as a game and an ecosystem to develop a crypto league enabling more opportunities to reward our community with exclusive, rare cards, passive income from masterpieces, token + salary rewards for staff, training, and broadcast related work, and more.
Contribute with ETH
Receive $HVND and all perks relevant to the crowdfund
Can borrow cards from the HVND treasury
Receive profit share from Parallel Tournament earnings, asset consolidation, card sales, and increased passive income from masterpieces.
Contribute with Card Loan
Receive $HVND for lending cards.
We "borrow" them and pay interest in $HVND
Potential to buy card with $HVND
We get the benefit of playable cards to round our deck with reduced up-front cost
Contribute with Card Donation
Receive $HVND
Receive profit share from Parallel Tournament earnings, asset consolidation, card sales, and increased passive income from masterpieces.
Commemorative NFT
Stream Asset viewed on all Parallel Streams
---
NFT Tiers (The initial pledge)
All crowdfund pledges will earn $HVND tokens. These tokens will act as your entry into the BLVKHVND community, while a minimum of 100 $HVND will give you access to the HVNDdao. The HVNDdao grants larger voting rights, special twitch privileges, a unique NFT based upon your contribution level, as well as access to earn $HVND through active participation.
For NFTs, there are 3 tiers with three evolved NFTs for the top three highest contributors of the crowdfund.
The Controller (HVND of GOD): 1 of 1. Awarded to the 1st place backer.
Eternal HVND: 1 of 1. Awarded to the 2nd place backer.
Ascendant HVND: 1 of 1. Awarded to the 3rd place backer.
Golden HVND: Edition of 100. Secured at 1 ETH.
Silver HVND: Edition of 250. Secured at 0.3 ETH.
Bronze HVND: Edition of 1000. Secured at 0.1 ETH.